Belfield Primary School of St. Mary Jamaica
In 2018 we funded the Jamaica Yes organization of Dallas Texas to assist the Belfield Primary School of St. Mary Jamaica in building a technology learning center.
Raising funds for charities in Guyana
Every year, CAT chooses a Caribbean country from its membership base and reaches back to assist a worthy cause in that country.  in 2014 we chose Guyana and embarked on a $2,000 fundraising campaign.  The fundraising was a huge success.
We could not have accomplished this without our loyal friends, family, and supporters who came out to support the cause.
A big thank you also to our hard working members and future members, who donated food items, procured auction items from vendors, donated auction items, as well as volunteered their time to work on the committee and at the event.
A special thank you to Azzad and Rehan Bacchus, owners of Taste of The Islands, who selflessly gave up their place for us to host the event. Thank you also to DJs Zion Train, Playboy, Junior Vibes, and Mike Kiss who kept the crowd entertained all night long.
Here are descriptions of the charities we are supporting.
Durban Park Lions Club:  
This organization offers assistance to Festival City, Tucville, and South Rumiveldt areas of Guyana. They are involved in an ongoing project called the Reading and Literacy Program.  A facility has been donated by Habitat for Humanity and every Saturday 36-46 children attend this program.  They cater to children ages 5-14 for two hours.  The children are encouraged to read, play some indoor board games, as well as socialize.
They are seeking donations of age appropriate books and games which they will present when they visit Guyana this Christmas.  The children are also given a snack which costs approximately US$1 per child weekly. Because of the cost incurred with shipping reading materials and games, financial donations are preferred. However, a limited number of books will be appreciated.
Buxton-Friendship Heritage Fund, Inc:
This fund which was established in 2001, offers charitable assistance to the poor and disadvantage families in the village of Buxton-Friendship. Almost 90% of the families live under poverty level. This quality of life produces high illiteracy, unemployment, and lack of economic opportunities.  The Buxton Fund has plans to bolster the education system and empower individuals with knowledge and skills through some education based initiatives.  They are presently focusing on five projects.
1) After school tutoring for primary school students who are expected to write the National Grade Six Assessment in April (Common Entrance Exam), This program runs from October to March and will cost approximately US$12,000.
2) Expansion of facilities at the high school.  Funds are needed to repair a vacant building and furnish it with furniture and other equipment. This project has a cost of about US$50,000.
3) An Academic Resource Center to offer academic support for secondary school students.  Equipment and tutoring will cost about US$10,000.
 4) School Lunch Program which will provide a daily meal with the hope of eliminating absenteeism and malnutrition. Estimated cost is US$5 /student and there are about 500 children needing assistance.
5) Recreational facility to help the youth develop physically and encourage healthier lifestyles.    Funds are needed to erect an outdoor ball court and an indoor gymnasium. The cost of this venture is approximate US$25,000.
Centre De Formation Classique de Sylvia Sanon in Haiti
In 2o16 and 2017, the Caribbean Association of Texas donated funds to the Haiti primary school.
 
Presentation of funds to the Buxton Heritage Club in Guyana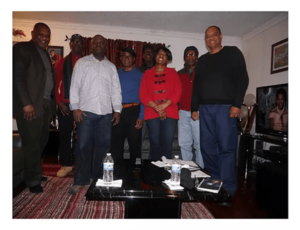 President John Newton, Secretary Lorna Campbell and other executive members of Buxton Heritage Fund, were presented a check for $1,000.00 by the Caribbean Association of Texas.   The funds will be used to support kids in Buxton Village Guyana in their education and nutrition.
CAT takes Soca Warriors of Trinidad shopping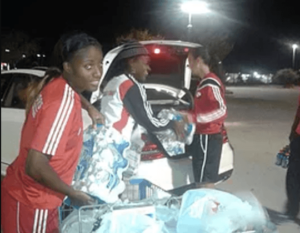 The Trinidad & Tobago Women's Soccer team in Dallas needed vital supplies such as food and water and the Caribbean Association of Texas stepped up and bought them water, Gatorade, and other items as needed. Suzan Cameron, our PR officer picked up some of the girls from the hotel and took them to Walmart to purchase items that they needed. Many other individuals and associations stepped up, Island Divas, DJ Mike Kiss to name a few.
Having lunch with the Women Soca Warriors of Trinidad
Fellow Trinidadians and faithful supporters of CAT, Hugo and Inez Walker opened up their lovely home to host a luncheon for the girls and coaches on Sunday, October 12th, 2014. The girls enjoyed a delicious lunch provided by CAT members and the Walkers.

Our heartfelt thanks go out to the Walker family for hosting this luncheon and showing the girls and coaches true Trini hospitality.